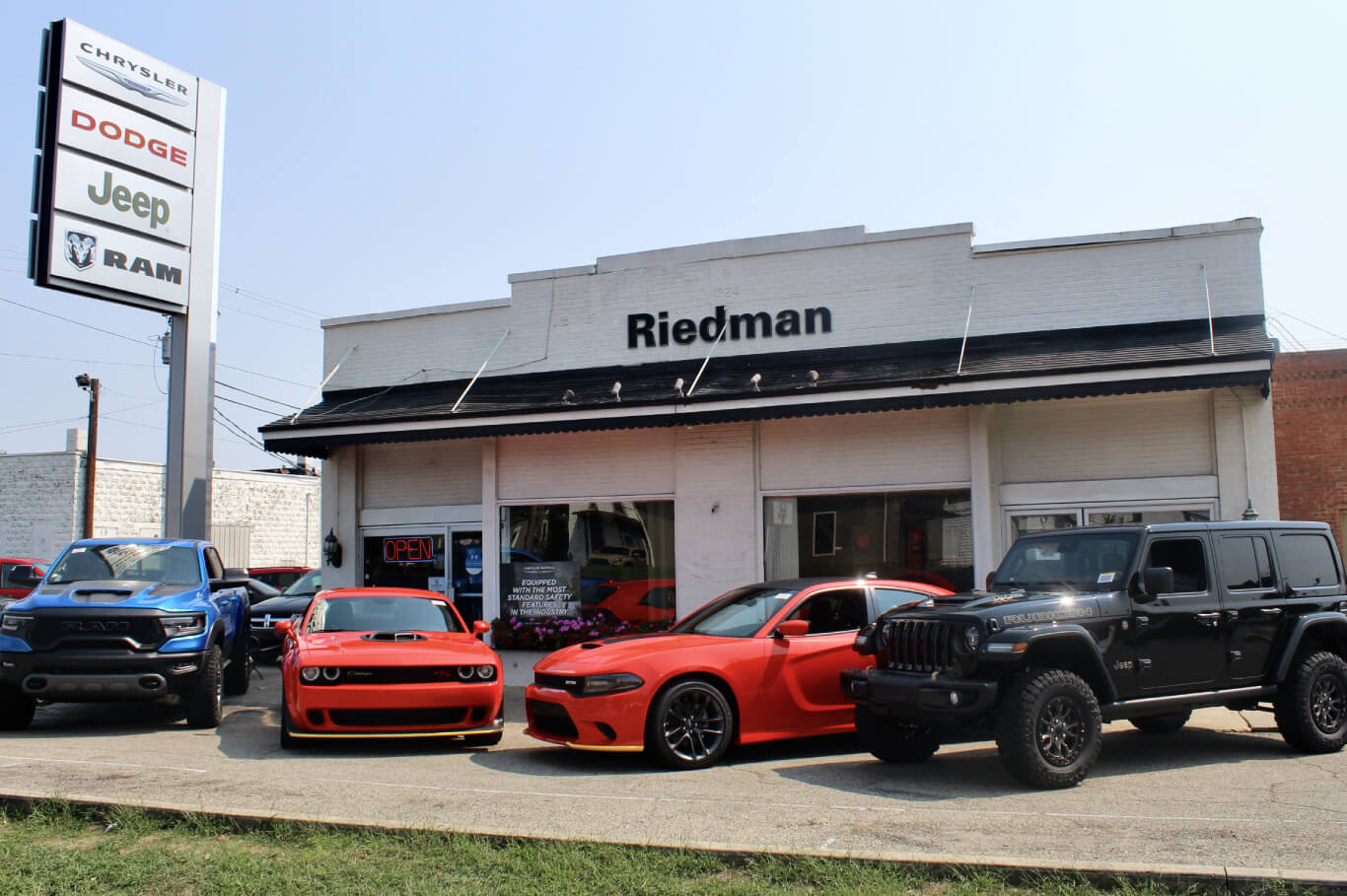 5 of the 50, 1932 Chryslers sold tot he state by the Riedman Brothers
In 1926, A fellow named Joe Riedman from Brookville, Indiana decided to get out of the construction business, and start up a company selling automobiles in Connersville, Indiana. Automobiles were all the rage, and Joe saw a lot of promise in these newfangled contraptions! Although some were leery, Joe believed in the advantages of owning an automobile. He wanted to help his friends own automobiles, and besides, he knew the value of being trustworthy, having a small town family-run business and "treating people the way you would want to be treated"
Thus Riedman Motors was born!
But that wasn't the only birth…and soon Joe became the proud pop to eight little Riedmans. As they grew, the kids were all involved in the business, from washing cars to sweeping the floors. But for two of the Riedman clan, Riedman Motors was more than just an after school job. John, the oldest, and Jim, the youngest, also had the same dream about the future of autos, and they had leaned from Joe the value of being honest and trustworthy and "treating people the way you would want to be treated."
Victor Riedman and Jim Riedman in the year of 1938. Victor is Joseph Riedman's half brother.
Standing left to right is Harry Caldwell, Evelyn Smith, Joseph Riedman, and Harry Cates in the 1930's era.
The only time that John or Jim took a break from Riedman Motors was to serve our country in the U.S. Air Force. John served in World War II, as a pilot of a B-17 bomber. He was shot down over Germany, held in a POW Camp and rescued by General Patton. Jim served during the Korean War, where he became one of the first USAF Jet Pilots, flying F86 Sabre Jets. Imagine how proud Joe was when they both decided to come home and take over the family business, because they liked "treating people the way you would want to be treated"
Soon John and Jim had families of their own, and sure enough, another little Riedman decided that he wanted to get involved in the business. Jim's son, Jeff Riedman, started working at Riedman Motors at the age of 10, washing cars and sweeping the floor, and being the "Chief Gopher" for dad Jim, and Uncle John. Jeff went off to college at Northwood Institute, a school specializing in Automotive Marketing. He then served as a Sales Manager for an Auto Dealership in Louisiana, but decided to come home to Connersville to help his Dad run the family business. Seems Jeff liked the idea of being trustworthy and "treating people the way you would want to be treated."
One of the first Riedman bricks that was built on the Riedman Brothers dealership in the 1930's.
Grandpa Joe and John have gone on to that great big dealership in the sky, but Jim and Jeff still get up every morning, excited about the prospects of the day at Riedman Motors. Seems like "treating people the way that you would want to be treated" has become a family tradition!
Jim Riedman flew a B-17 like this in World War 2. It was shot down over Germany on his 21st mission. He served 1 year in a German hospital, 1 Year in German Prison (Stalag Loft #3). He returned to Connersville and managed this dealership until 1992. He then retired after Jeffery came back to Connersville and took over the store. Today he runs the dealership and his daughter, Abigail Riedman, 4th generation works in sales and learning the ropes to soon take over the family business.